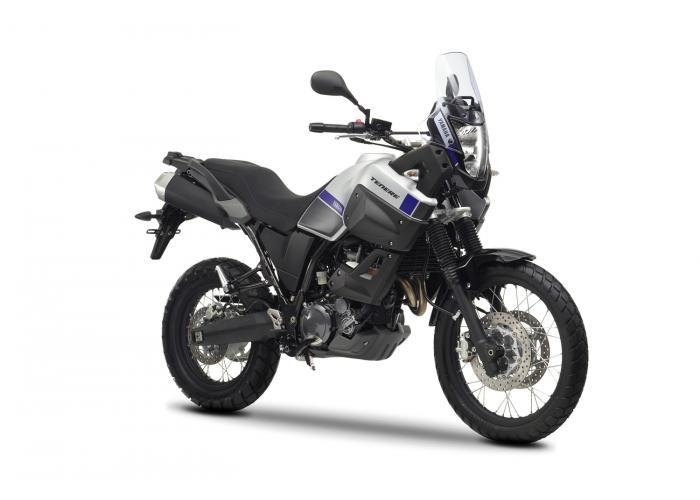 Return of the Ténéré legend
The name Ténéré has been synonymous with off road adventures ever since the original dual sport machine was first launched in the early 1980s.
Developed from Yamaha's highly successful Dakar race-winning factory bikes, the original Ténéré models built up a huge following of loyal owners during the 1980s and 90s.
With an unrivalled reputation for durability, strong on and off road performance, high levels of long-distance comfort, and the ability to handle hostile off road terrain, the machine was one of Yamaha's best-selling models and a favourite for tackling harsh conditions.
Such was its 'go-anywhere, do-anything' reputation, that it became the machine of choice for numerous round-the-world travellers, and to this day the original Ténéré and its successors have probably clocked up more orbits of the earth than any other single-cylinder motorcycle. And at the same time as being the number one choice with adventure-seekers, the original Ténéré also became a favourite with riders looking for a tough, reliable and stylish all-rounder that could perform well in almost any environment.
The XTZ660 Tenere is designed to offer a new generation of adventure-seeking riders the opportunity to explore a new world of possibilities. True to the original 'go-anywhere' design philosophy.
*Images are shown for reference only, product specifications and data are subject to change without notice.
Features
High-torque 660cc liquid-cooled engine
Yamaha has more experience in the design of rugged and reliable large-capacity 4-stroke single-cylinder engines than any other leading manufacturer. The famous Dakar Rally was inspired by the original XT500 model way back in the 1970s, and since then Yamaha has been at the forefront of big-single design.
Powering the new XTZ660 Ténéré is a 660cc liquid-cooled 4-stroke single cylinder SOHC engine tuned to deliver strong low to midrange power. This gutsy powerplant makes the Ténéré 660 a strong performer in a wide range of riding situations, from urban commuting through to highway touring and off road exploring.
Equipped with a highly efficient 4-valve cylinder head with a 10:1 compression ratio, and featuring bore x stroke dimensions of 100mm x 84mm, the new fuel-injected Ténéré engine delivers excellent throttle response for lively off-the-line and roll-on acceleration.
The smooth-shifting 5-speed transmission is equipped with carefully chosen gear ratios that are designed to optimise the bike's strong low to mid-range torque output, and the 2.9 litre transmission oil capacity ensures efficient engine operation even under severe conditions.
Rugged dual-purpose frame
The XTZ660 Ténéré is equipped with an all-new chassis whose rugged, go-anywhere character perfectly complements the bigsingle engine. The extremely strong yet new light semi-double cradle frame is compact and slim, and has been designed to offer an optimum balance of strength and rigidity for good handling qualities on and off road.
Long travel suspension with aluminium swinging arm
In order to deliver high levels of rider and passenger comfort, and to be able to take handle a variety of off road terrain, the new Ténéré is equipped with long-travel forks which give 210mm of front wheel movement.
Complementing this rugged front suspension is a lightweight aluminium swinging arm, which reduces unsprung weight for enhanced rear suspension performance, and offers 200mm of rear wheel movement that's designed to soak up the bumps.
This generous amount of suspension travel at the front and rear not only makes the Ténéré one of the most comfortable machines to ride in any situation – it also ensures good handling performance over poorly maintained roads and across pure off-road terrain.
Underlining the machine's serious long-distance potential is a largecapacity 23-litre fuel tank which blends seamlessly with the beautifully sculpted front cowl. Despite its generous capacity, the width and height of the fuel tank is kept to a minimum by extending the fuel tank beneath the rider's seat, which has the added advantage of helping to centralise mass for neutral handling characteristics.
With its upright riding position and long dual seat, the Ténéré is an extremely comfortable machine, whatever the journey, whether it's from home to work or across a continent. To help reduce rider fatigue on long journeys this rugged new all-rounder is equipped with a stylish front cowl and tall screen which deflect wind away from the upper body.
For a distinctive new look, a new dual-bulb headlamp assembly with a vertically stacked low and high beam is used. As well as projecting a powerful beam, this new 'over and under' assembly keep the cowl's frontal width to a minimum for improved aerodynamics.
For efficient stopping power the new Ténéré is equipped with dual 298mm discs gripped by 2-pot calipers. This high-specification system ensures strong and controllable braking performance, as well as offering plenty of feel.
Bodywork and engine protectors
With its class-leading go-anywhere abilities, the XTZ660 Ténéré is ready to encounter rugged terrain, and in order to handle the most severe conditions the new model is equipped with a range of lightweight protectors.
The front screen features durable protectors on either side of the bodywork which help prevent accidental damage, while the engine is also equipped with lightweight guards on either side of the cylinder. And to help prevent damage when riding off road, the engine cases are also fitted with compact guards. Each of these protectors can be easily replaced if they are damaged, allowing the owner to keep their machine in first class condition.
Wide range of high quality accessories
Yamaha has also developed a comprehensive range of accessories for the new Ténéré, allowing riders to enhance the specification of their bike to suit their own requirements.
Riders wishing to enhance the luggage carrying capacity of their bike have the option to fit genuine Yamaha side cases or a top case, as well as a tank bag.
Hand guards, engine guards and a skid plate are available for owners looking for extra protection on their riding adventures – while the wind deflectors help keep hands warm and also act as brush guards when riding off road.
An optional main stand is available to facilitate tasks such as wheel removal when repairing punctures on long trips, and a tank pad is available to help prevent the minor scratching to the paintwork that can sometimes be caused by zips and buckles.
And finally, riders wishing to give their new Ténéré an even gutsier exhaust note may wish to fit the slip-on Akrapovič muffler offered by Yamaha.
Specifications
| | |
| --- | --- |
| Engine Type | Liquid-cooled, 4-stroke, single cylinder, 4-valve, SOHC |
| Displacement | 660 cc |
| Bore x Stroke | 100.0 x 84.0 mm |
| Compression Ratio | 10.0 : 1 |
| Lubrication System | Dry sump |
| Fuel Management | Fuel injection |
| Ignition | TCI |
| Starter System | Electric |
| Fuel Tank Capacity | 23 L |
| Oil Capacity | 2.9 L |
| Final Transmission | Chain drive |
| Transmission | Constant mesh, 5-speed |
| Length | 2246 mm |
| Width | 896 mm |
| Height | 1477 mm |
| Seat Height | 896 mm |
| Wheelbase | 1500 mm |
| Ground Clearance | 260 mm |
| Dry Weight | 190 kg |
| Wet Weight | 209 kg with 23 litres of fuel |
| Frame Type | Steel tube diamond shaped |
| Suspension Front | Telescopic forks |
| Suspension Rear | Swingarm (monocross) |
| Brakes Front | Dual discs, 298 |
| Brakes Rear | Single disc, 245 |
| Tyres Front | 90/90-21 M/C |
| Tyres Rear | 130/80-17 M/C |
Colours